---
Actiongirls.com DVD Volume 1

Starring.... Sylvia Saint, Veronica Zemanova, Martina Fox, Amy Easton, Amira Hazine, Silvie Thomas.

Description:

Approx Running time 90 Minutes

Q. What is the story of Actiongirls.com?

A. Based in the future, the world as we know it has been destroyed. Menacing gangs ravage and loot the cities and towns searching for new members. Follow the Actiongirls each week in their ongoing story of survival, alone and outnumbered they must do what it takes to survive in this hostile world.


DVD Extra:
Actiongirls.com DVD volume 2 Trailer
Actiongirls.com DVD volume 3 Trailer
---
Actiongirls.com DVD Volume 2

Starring.... Sylvia Saint, Susana Spears, Martina Fox, Ashley Robbins, Raylene Richards, Silvie Thomas, Chantel Williams, Zabrina Aamir, Susan Carter, Victoria Roberts.

Description:

Approx Running time 90 Minutes

Q. What is the story of Actiongirls.com?

A. Based in the future, the world as we know it has been destroyed. Menacing gangs ravage and loot the cities and towns searching for new members. Follow the Actiongirls each week in their ongoing story of survival, alone and outnumbered they must do what it takes to survive in this hostile world.


DVD Extra:
Actiongirls.com DVD volume 1 Trailer
Actiongirls.com DVD volume 3 Trailer
---
"NEW" Actiongirls.com DVD Volume 3

(Starring.... Sylvia Saint, Susana Spears, Martina Fox, Ashley Robbins, Veronica Vanoza, Silvie Thomas, Chantel Williams, Susan Carter, Victoria Roberts.

Description:

Approx Running time 90 Minutes

Q. What is the story of Actiongirls.com?

A. Based in the future, the world as we know it has been destroyed. Menacing gangs ravage and loot the cities and towns searching for new members. Follow the Actiongirls each week in their ongoing story of survival, alone and outnumbered they must do what it takes to survive in this hostile world.


DVD Extra:
Actiongirls.com DVD volume 4 Trailer
Actiongirls.com presents... Water and Fitness DVD Trailer
---
Starring... Sylvia Saint aka Silvia Saint

Lovely Sylvia Saint wears shiny brown PH with a short skirt and clear slides! She poses over the camera showing off her control top and cotton panel as she pulls her skirt up and down. Doing great bending over and posing, she works off her skirt to tease some more! Laying back, she poses her legs in the air and bends over the couch as she slides her hands all over her pretty legs! Taking off her top she shows off in her bra, PH, and heels for a bit before trying on shiny white PH with control top and no cotton panel! Slipping on the shoes she keeps teasing nice and slow! After a while she tries on shiny suntan STW PH with no cotton panel to tease and pose in her bra and hose nice and slow. Taking off the bra she teases some more then tries on black STW with no cotton panel and her slides to tease even more till she begins to slowly masturbate under and over her hose and pull them into her pussy. Ripping them open, she masturbates gently with her fingers! What a sexy girl! About 1 hour mins. Live sound, nudity, masturbation. This DVD is digitally mastered with animated video scene-select chapter menus and photo gallery.

NOTE: This is a DVD-R. Not all DVD players are able to play the DVD-R format. Especially if your player is over a few years old roughly 2002 or older. Please refer to your DVD manual and make sure that it can play the DVD-R format. Shipped in clear jewel style case.Need Help seeing if your DVD Player accepts DVD-R? Click Here

DVD Extra:

Photo gallery


---
Starring... Sylvia Saint aka Silvia Saint

also starring... Caroline Cage, Cassandra Wilde, Dru Berrymoore, Gabriella Bond, Katja Kean, Monique Covet, Sophie Evans

Approx Running time 1 hour and 45 minutes

Twelve of Private's hottest blondes will make your blood boil! Don't miss this raunchy compilation, specially made for you. For people new to PRIVATE this is definitely for you, 10 scenes showcasing the best of blondes fucking. Sylvia Saint does a Double Penetration scene in this movie.

Rated XXX

Region Free


---
Starring... Sylvia Saint aka Silvia Saint

also starring... Alexa, Andrea, Isabel, Katia Love, Lea De Mae, Sandra

Approx Running time 1 hrs. 48 mins

Award-Winning director, Antonio Adamo now gives us the fantastic finale to his blistering Brazilian opus, DANGEROUS THINGS!!! Ether (Silvia Saint), does, as so many authors have done before, writes about what she knows best, but as a result of her torrid, tempestuous vacation, Ether's formerly best-selling books have gone over the line from erotica to pornography!!! Having discovered the passionate pleasures of anal, oral and group sex, she is finally able to extinguish the air of false respectability which has plagued her and her books!!! It's lavish, lush production from the world leader in adult entertainment, PRIVATE/PENTHOUSE!!!

Rated XXX

DVD Extra:

Interactive Menus
Chapter Selection
Trailers
Photo Gallery
Parental Lock
DVD-ROM Compatible
Web Site Access
Behind The Scenes
Cast Biographies
Production Notes


---
Starring... Sylvia Saint aka Silvia Saint

also starring... Maria, Dora, Lea de Mae, Estelle, Sonia Smith

Approx Running time 88 minutes

Shot on the Coast of Brazil. Award-Winning director, Antonio Adamo now gives us the fantastic finale to his blistering Brazilian opus, "Dangerous Things." Ether (Silvia Saint), does, as so many authors have done before, writes about what she knows best but as a result of her torrid, tempestuous vacation, Ether's formerly best-selling books have gone over the line from erotica to pornography. Having discovered the passionate pleasures of anal, oral and group sex, she is finally able to extinguish the air of false respectability which has plagued her and her books.

Rated XXX

DVD Extra:

Includes Interactive Menus. Chapter Selection. Trailers. Parental Lock. DVD-ROM Compatible. Web Site Information. Cast Biographies. Photo Gallery. Production Notes. True Multi-Angle Scene.


---
Starring... Sylvia Saint aka Silvia Saint

also starring... Brooke Ashley, Kate More, Laura Angel, Lea de Mae, Nastasy, Rumika Power

Approx Running time 4 hours

Is there an adult film star any hotter than Silvia Saint? Many people think not. The Czechoslovakian-born actress is truly beautiful and rather famous for her on-screen performances as well as her unbridled sexual desire. She definitely does not hold back. The Private Life of Silvia Saint is a double-disk DVD set consisting of a compilation of her finest adult film moments. The four-hour DVD set includes numerous sex scenes as well as photo galleries, interviews with Silvia Saint, previews and trailers.


Features:

Fully Interactive Menus, Direct Chapter Access, Parental Lock, Trailers, Production Notes,

Region Free


Rating: XXX



---
---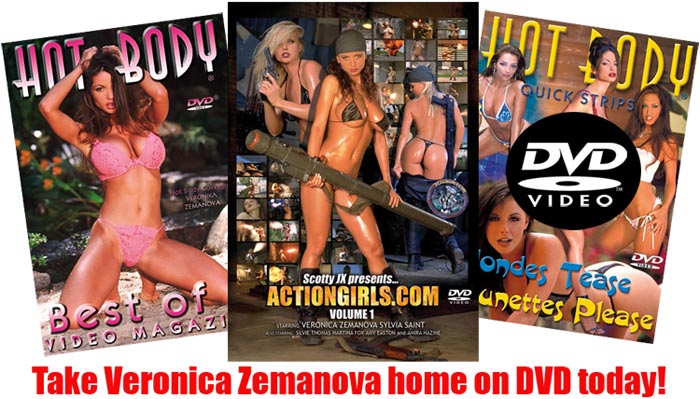 (all images are owned and copyrighted to the photographer theives will be prosecuted)
Copyright Viewpornstars.com 2006
Viewpornstars.com is a Scotty JX website all rights reserved
---
Order today and receive your copy by USPS airlmail in 5-8 days in US
International Orders 6-10 days
Take Home Actiongirls.com DVD vol # 1

Starring....

Veronica Zemanova

Sylvia Saint

Co-Starring...

Martina Fox, Amy Easton, Amira Hazine, Silvie Thomas.
sylvia saint silvia saint videos video movies movie dvd dvds